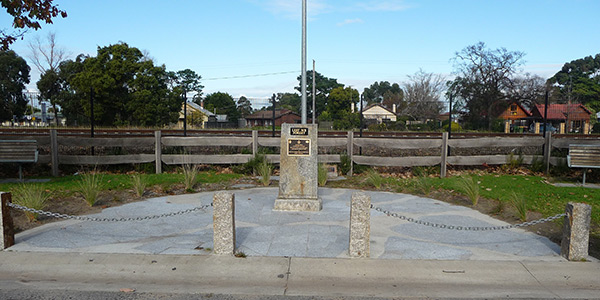 War Memorial plaque
Transcription
This memorial / is dedicated to those / men and women of Tynong area / who served their country / in / Boer War, World War 1, World War 2 / Korea, Vietnam.
Dedication plaque
Transcription
Local amateur geologist, Mrs Mary Ann Ryan, / suggested to the National War Memorial / Committee that granite from the original / Tynong Quarry be used in the construction of / the Shrine of Remembrance in Melbourne.
Dedicated on 11th November 1934
This memorial dedicated on 11 November, 2005 / signifies this contribution and resided at / the Tynong State School until it's closure / c1950 when it was relocated to this site.
Address: Railway Avenue, Tynong
Surveyed on: 24 Jun 2011

Melway Map Ref: 320 G10
Surveyed by: Fay and Anne