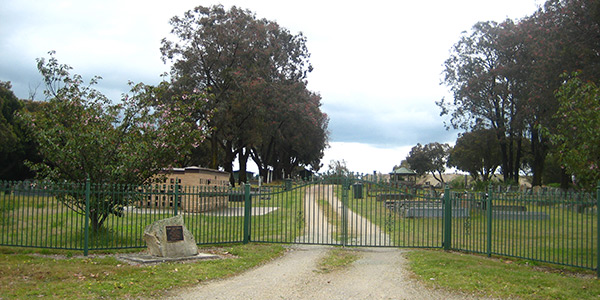 Little Louisa Mary Pickersgill was just two years old when she became the first person to be buried at Lang Lang Cemetery. Sadly, Louisa's younger brother Samuel became the third person to be buried there only seven months later.
In 1886 Louisa and Samuel, and their older brother Robert (aged four) lived with their parents Will and Jane on a heavily timbered block near Lang Lang. Will worked for a neighbour during the day and cleared the farm by night. Will was away from the farm and Robert was staying with his grandparents when Louisa and Samuel became ill. Alone, with no neighbours or doctor nearby their mother decided to yoke up the horse and take the children to the doctor at Griffith's Point (San Remo) thirty miles away. Jane made them as comfortable as she could, piling up blankets and rugs around them to keep them warm. But, according to the memoirs of Louisa and Samuel's uncle, Samuel Jabez Pickersgill, Louisa died on the way. Samuel died some seven months later. The memoirs of Samuel Jabez Pickersgill cite diphtheria as the cause of the children's deaths, their death certificates, however, list 'natural causes'. Our thanks to the Lang Lang & District Historical Society for helping us with the finer details of the children's deaths.
Jane gave birth to her fifth child in 1890, but the baby was stillborn and she herself died a few hours later. Jane was just 28 years old and was buried beside Louisa and Samuel.
Reference: Lang Lang Cemetery Tour 2013 by Narre Warren & District Family History Group.
A plaque was unveiled on Saturday 24 June 2017.
Louisa Mary Pickersgill plaque
Transcription
This plaque marks the site of the / first grave / in the Lang Lang Cemetery / Interred here are the remains of / Louisa Mary Pickersgill / of Grantville / aged 2 1886 / The grave was dug by James Baker / who also officiated at the funeral / Laid as a joint initiative of / Lang Lang and District Historical Society / and / Lang Lang Cemetery Trust / -201
Address: 375 McDonalds Track, Lang Lang
Surveyed on: 24 Jun 2017

Melway Map Ref: Page 18 R18
Surveyed by: Lynne