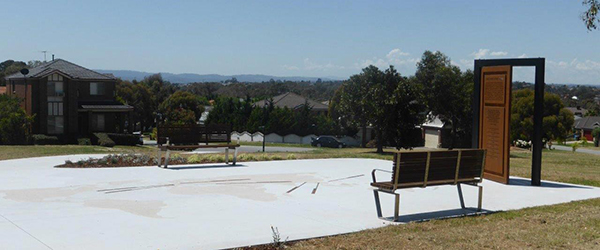 The Lyndhurst War Memorial was unveiled on Saturday 11 November 2017.
Transcription
The story of this door
This door represents the homestead door for / eight young men – farmers and rural workers / – who left their homes in the Lyndhurst district to / fight in World War 1 and World War 11. Sadly they / never returned to the comfort of home, family / and friends that awaited them. It symbolises who / they were fighting for – home, family, country and / freedom. For all those who left to fight for / Australia and its allies, let us remember the door / they walked out of and the sacrifice they made.
They shall grow not old, / as we that are left grow old; age shall not weary them, / nor the years condemn. / At the going down of the sun / and in the morning / we will remember them. / Lest We Forget.
Lieutenant Malcolm Kirkham / 02.09.1918
Driver Charles Lyndhurst Payne / 26.04/1918
Lieutenant Ivor Kenneth Allison / 22.01.1943
Private Allen John Brereton / 22.01.1944
Private Raymond George Brereton / 08.12.1942
Sergeant James Murray Thomson / 25.11.1941
Flying Officer Eric Hurlstone Renfree / 25.08.1942
Private Thomas Alfred Wear / 01.07.1942
*a relief map of the world pinpointing the various locations the soldiers died at lies between the two seats.
Address: Figtree Reserve, Waterbush Crescent, Lyndhurst 3975
Surveyed on: 14 Nov 2017

Melway Map Ref: 129 A3
Surveyed by: Lynne